An organized refrigerator prevents food loss due to expiration and spoiling. There are many types of containers that can be used to suit your personal needs. Fridge and Freeze Binz has a line of clear containers for the refrigerator and freezer in a wide variety of sizes. Narrow drawer type bins can hold small items such as yogurt and individual drinks, making them easily accessible. Egg containers keep them fresh and safe from breakage. Shallow trays catch juices as meat defrosts. A narrow bin can hold condiments and fits on most doors making it easy to carry the items to the table. The containers are the depth of most refrigerators and freezers and the pull out style makes it impossible for anything to get lost in the back. They can be a little pricey for the Fridge and Freeze Binz brand but Walmart also carries a brand of their own which work just as well.
Drink containers can take up a lot of space in the refrigerator, especially the gallon jugs. Another option is to replace the store bought bulky containers with carafe style jugs. Prodyne makes  BPA-free carafes in two sizes, 52 oz. and 32 oz., which are tall and slender taking up less room. The 52 oz. holds nearly a half gallon and the smaller size is easier for young children to use. The lids flip up for pouring and snap closed to create a leak-proof seal. Walmart also makes this type of carafe which is about the same as Prodyne.
Leftover storage containers need to be airtight and have a good seal in order to keep fresh. Oxo has a line of clear containers that are supurb for this. They come in several sizes and shapes. Large and small, square and rectangular, these containers are completely leak-proof keeping your leftovers fresh. Their clear style allows you to see what you have at a glance. They are also microwave and dishwasher safe making it easy to go from refrigerator to table. The lids come in green and white with a clear top. The containers stack well together saving space. They can also be pricey but well worth it. Sometimes they can be found at stores like Home Goods or Marshalls at a reduced cost.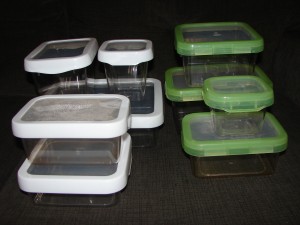 Sandwich meats and cheeses also need to be stored in airtight containers rather than the bags they come in at the deli. Ikea sells a great container that can be used for this purpose. They are long and about 1 1/2 in. deep which is suitable for lunch meats and cheeses. The containers snap together on top of each other keeping all these items together and also take up very little space in the refrigerator.